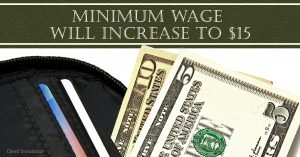 Previously, we reported that Floridians would be given a choice on the November election ballot to increase the state's minimum wage from $8.56 per hour to $15 per hour.  Millions cast their vote, and over 60 percent of Floridians said YES to Amendment 2, increasing the state's minimum wage to $15 per hour — joining California, Connecticut, Illinois, Maryland, Massachusetts, New Jersey, and New York.
While this certainly impacts Floridians' bottom lines, the change will be gradual.  The minimum wage in Florida will increase to $10.00 per hour starting on September 30, 2021.  Every September 30th thereafter the minimum wage will increase by $1.00, reaching $15.00 per hour on September 30, 2026.  Every year afterward the minimum wage will be reviewed for additional, potential adjustment by the Florida Department of Economic Opportunity. 
Make sure to keep the wage increase schedule in mind to ensure you are being paid every dollar you are entitled to for every bit of your hard work.  If you have any questions about how this change in Florida's wage laws affects your minimum wage or overtime wage rights, don't hesitate to contact Shavitz Law Group at (561) 447-8888 or visit us at www.shavitzlaw.com for a free, no obligation review of your circumstances and consultation regarding your rights. 
YOU EARNED IT, NOW GO GET IT.
Gregg Shavitz, Shavitz Law Group, 951 Yamato Rd Ste 285, Boca Raton, FL and 800 3rd Ave, Suite 2800, New York, NY.  Lawyers licensed in states including FL, NY, NJ, and TX.  The choice of a lawyer is an important decision and should not be based on advertisements alone.
 Attorney Advertising